Thimphu and Paro Tour Overview
Being a well-known tour and travel agency in Kharagpur, West Bengal, Provasin Holidays offers a delightful package for magical Bhutan tour. Bhutan Tour gives many opportunities for travelers to experience unspoiled and perfect scenes, high mountains, deep valleys which are untouched by modernization and their traditional culture. Bhutan tour package covers all the destinations with food, accommodation, transportation services. The Magical Bhutan tour includes western and focal Bhutan, Paro, Thimphu, Punakha, Wangduephodrang, Trongsa, Bumthang, and more. We provide the best tour operator for Bhutan tour in Kharagpur which is engaged in providing different services at reasonable charges for the Bhutan tour. Bhutan tour with us will be a wonderful experience for our clients. Do visit Bhutan once with us and endure a wonderful touring experience.
It is nearly 19 kilometers and is 30 minutes drive from Hashimara, 55 Kilometers from Alipurduar - Reach Jaigaon - Processing of Tourist Permit at Phuentsholing - Phuentsholing, is a border town in southern Bhutan, Phuentsholing lies opposite the Indian town of Jaigaon in West Bengal -Phuentsholing has a population of 20,537 – Night stay at Jaigaon.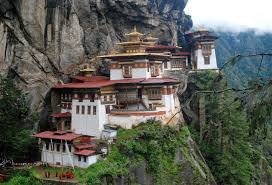 After Breakfast: Go for Major Sightseeing Covering 1) Buddha Point, 2) BBS Tower, 3) Tashicchhoe Dzong, 4) The Memorial Chorten, 5)National Library, 6) The Institute of Traditional Medicine, 7) Centenary Farmer Market, 8) Changlimithang Stadium, 9) School of Arts & Crafts, 10) Handicraft Institute, 11) Zangthopelri Lhakhang, 12) Motithang Takin Reserve (Takin Zoo), 13) Semtokha Dzong - In Evening: Stroll Through The Market of Thimphu - Overnight Stay at Thimpu

After Breakfast: Transfer to Punakha It is nearly 03 hours drive and approximately 90 kilometers from Thimphu - Punakha is the administrative centre of Punakha dzongkhag, districts of Bhutan - Punakha was the capital of Bhutan - It Has a population of 25,700. Wangdue Phodrang is a town and capital (dzongkhag thromde) of Wangdue Phodrang District in central Bhutan. It Has a Population Of 34,300 - Enroute Visit 1) Dochu la Pass, 2) Druk Wangyal Lhakhang 3) Punakha Dzong & 4) Wangdue Phodrang, 5) Khamsum Yulley Namgyel Chorten, Transfer to Paro, Paro is Destination Of Scenic Beauty, The Only International Airport of Bhutan in Paro - It Has a Population of 39,800 - It is nearly 04 Hours drive and approximately 143 kilometers from Punakha & Wangdue - Overnight Stay at Paro