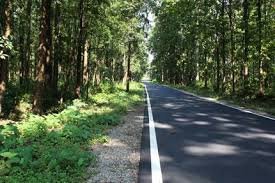 After breakfast, we take you for an excursion to Murti, Jhalong, Bindu samsing and Sunthalekhola. 
Murti (small village by the side of the Murti River) is an ideal picnic spot where you can enjoy the scenic beauty. You may even catch a glimpse of elephants and other animals by the side of Murti River when they come to drink water.
Jhalong - situated on the bank of the river Jaldhaka on the Indo-Bhutan border. On the way to Bindu Jaldhaka Hydro Electricity Project on Jaldhaka River is a major attraction in this area. Bird lovers can enjoy hill birds as well as migratory water fowls here.
Bindu (The last village of West Bengal before one enters Bhutan) is a beautiful valley on the bank of the river Jaladhaka. This river serves as a natural physical boundary separating West Bengal and Bhutan. Bindu is famous for its cardamom plantations.
Samsing (Tea estate in the Dooars) is a small locality of about 100 houses which has grown around the tea gardens. The silence of the place is disturbed only by the noise of the gurgling river Murti, which flows about half a kilometer below. The drive to Samsing is through lush green tea gardens and the descending mist on the tea gardens during the monsoons is a sight to behold. Paradise for bird lovers.
Suntaley Khola – (A small village and a tourist spot in West Bengal). It gets its name from a small stream: Suntaley Khola. In Nepali, Suntaley means orange and khola means stream. This place is nearly 5 km from Samsing. The green patch on the left side of the way to Suntalekhola is amazing and holds many species of birds and butterflies. Overnight at Lataguri/Chalsa/murti/dhupjhora.