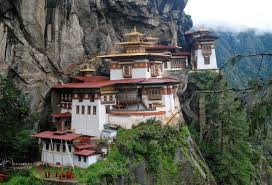 Memorial Chorten (temple) built in memory of the late 3rd King. Visit Changangkha Lhakhang, the oldest temple in the valley offering a nice view of the valley. Enclosure where national animal Takins are kept and drive to visit the largest statue of Buddha offering magnificent view of entire Thimphu valley.National Library of Bhutan which houses some of the world's most rare and ancient religious manuscripts and the Bhutan School of Arts & Crafts which is also called the Painting School. For art lovers, the visit to the Painting School is a treat and you are welcome to meet with the students and faculty since you share a common canvas. Let us know in advance and we will formally schedule a guided tour for you.
After lunch, your tour guide will take you and the other members of your group to the Trashicho Dzong also known as the Fortress of the Glorious Religion. Initially built in 1641 AD and later remodeled by King Jigme Dorji Wangchuk in 1965, the Dzong is the home of the main secretariat of the Government. The throne of His Majesty, the King of Bhutan, is situated here. The National Assembly Hall is in a modern structure on the other side of the river. During summer, the main monk group led by His Holiness, the Je Khenpo, reside in the Dzong.
The Jungshi Handmade Paper Factory is your next stop. Come and see how Bhutan protects its environment through long-term sustainability. Paper products are manufactured from mulberry plant bark called "daphne" in the local language. This factory manufactures a special watermark paper as well as products such as lampshades, envelopes and other objects made of traditional Bhutanese paper. They make great gifts to take home with you and are genuinely unique. It is not just the texture of these handmade paper products that will intrigue you, but also their unique earth tones and natural hews.
The Bhutan Textile and Folk Heritage museums are your next two stops. Learn first-hand about Bhutan's rich cultural traditions, its deeply rooted heritage which spans thousands of years and the Bhutanese way of life. You will also visit the Handicrafts Emporium where you can purchase exquisite hand-woven fabric in a million colors and decorations for your living room. Are you a stamp collector by any chance? We won't call you a philatelist because that sounds way too esoteric. Surprising as it may sound, Bhutan has a rather rich tradition of postage stamps which dates back several hundred years. You can purchase rare postage stamps in any one of several shops in this area around the two museums. Bhutan also happens to be a picture postcard collector's paradise. If you need to change money, the Bhutan National Bank is next door.
Simtokha Dzong is the oldest and the most secure fortress in Bhutan. It offers you an amazing backdrop to take pictures. Enjoy a full-course dinner and some little "me" time in the evening. Feel free to go out on your own since Bhutan is a very safe country for everyone including tourists.